Internet of Things Verticals
There are several market verticals that are considered as part of the Internet of Things (IoT) ecosystem, and Sensor IT has selected a range that we consider the most valued proposition for the development of prototypes and production system, which are included here.
If you believe any of these technological spaces could be of interest for your company, please contact us on info@sensorit.co.uk. Chances are we have already developed a prototype applicable to your business or we can do so working closely with you.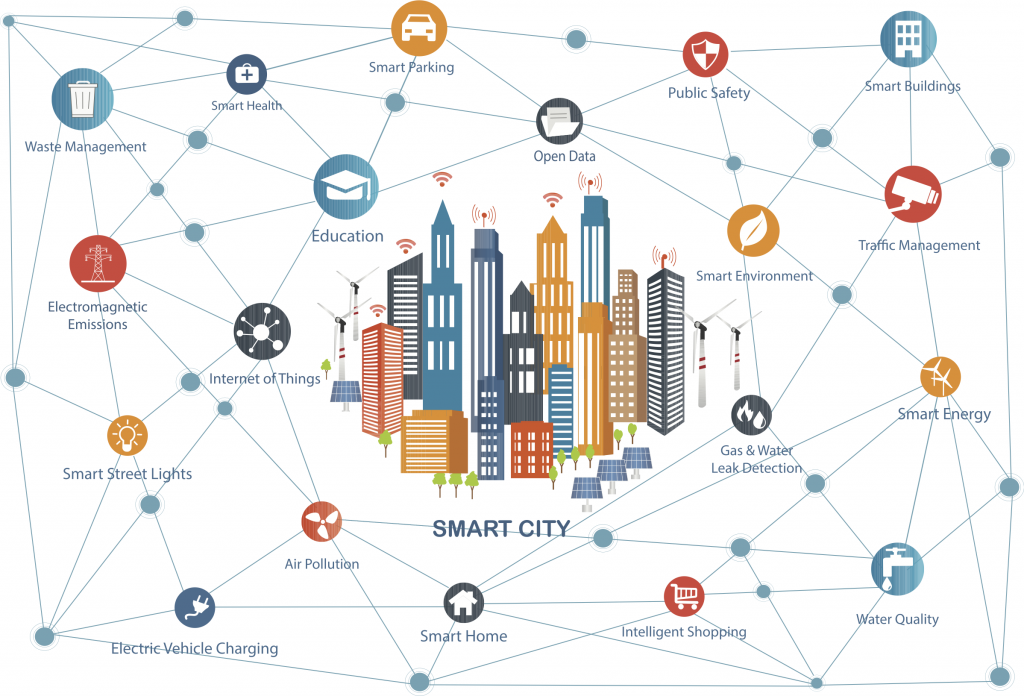 Smart Cities
For us, a smart city as "one that makes optimal use of all the interconnected information available today to better understand and control its operations. Communities can improve energy distribution, streamline trash collection, decrease traffic congestion, and improve air quality with help from the IoT.
Air Quality Monitoring
The air we breathe outside or indoors, the ambient air, may contain a number of pollutants that are harmful to us and which can require monitoring. Some of these include:
Particulate Matter (PM) specifically PM10, PM2.5 and PM1.0
Nitrogen Dioxide (NO2)
Sulphur Dioxide (SO2)
Ozone (low level) (O3)
Carbon Monoxide (CO)
Carbon Dioxide (CO2)
Volatile Organic Compounds (VOC)
Amongst others.
Sensor IT has developed a highly configurable platform that can be customised to monitor those parameters required, based on the end client, application and use case. Examples of the parameters that can be configured include:
Pollutants or chemical components to be included into the monitor
Stand-alone or fully connected device, including what communication protocol to implement: wireless networks (WIFI), Cellular, IoT (NB-IoT®, LoRaWAN®, Sigfox®, etc)
Battery or mains powered
Display information locally (through a fitted LCD display) or/and through a cloud-based dashboard
An example of a customised configuration is our COVID-19 Air Quality Monitor prevention device. This was specifically developed with the pandemic in mind, and as such Sensor IT developed a extremely small-footprint device that would mainly monitor the concentrations of Carbon Dioxide in the air, targeting enclosed spaces, with the aim to provide an indication as to when it would be require to ventilate the room in order to minimise infection amongst those inside. The device is fitted with a full-colour LCD screen that provides a visual indication of the values read. Two versions of the product allow clients to choose from a fully connected device that sends the data using either a WIFI network or an IoT (LoRaWAN®) gateway to a cloud-based dashboard, or a standalone version that simply presents the data using the LCD display.
The COVID-19 Air Quality monitor also captures other ambient parameters, such as air temperature and humidity and Volatile Organic Compounds (VOC).
Carbon Dioxide Monitor Covid-19 Prevention Device
Sensor IT's Air Quality Monitor is based on an industrial-level sensor capable of providing detailed, real-time data on CO2 levels, informing the user when a room needs ventilation to improve the air quality and reduce the risk of COVID-19 infection. The device is capable of connecting to a cloud-based dashboard through a simple, ubiquitous WIFI network, without the need of additional hardware – as other connected monitors do.
The device incorporates an innovative self-calibrating functionality that ensures accuracy, longevity and reliability. The device is fully designed and made in the UK, and it is fitted with a real, professional-level CO2 sensor, as opposed to other devices that only provide eCO2 (estimated) concentration values.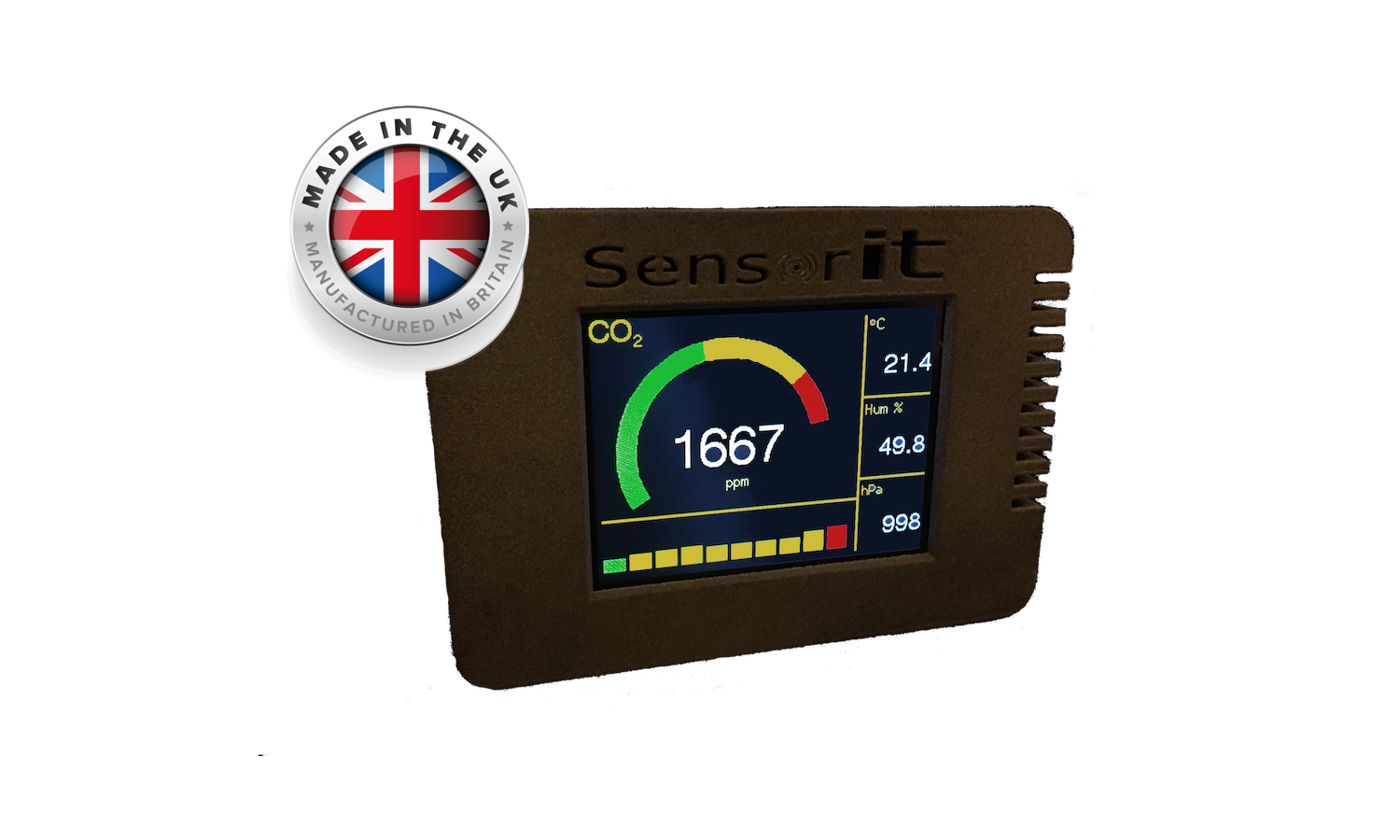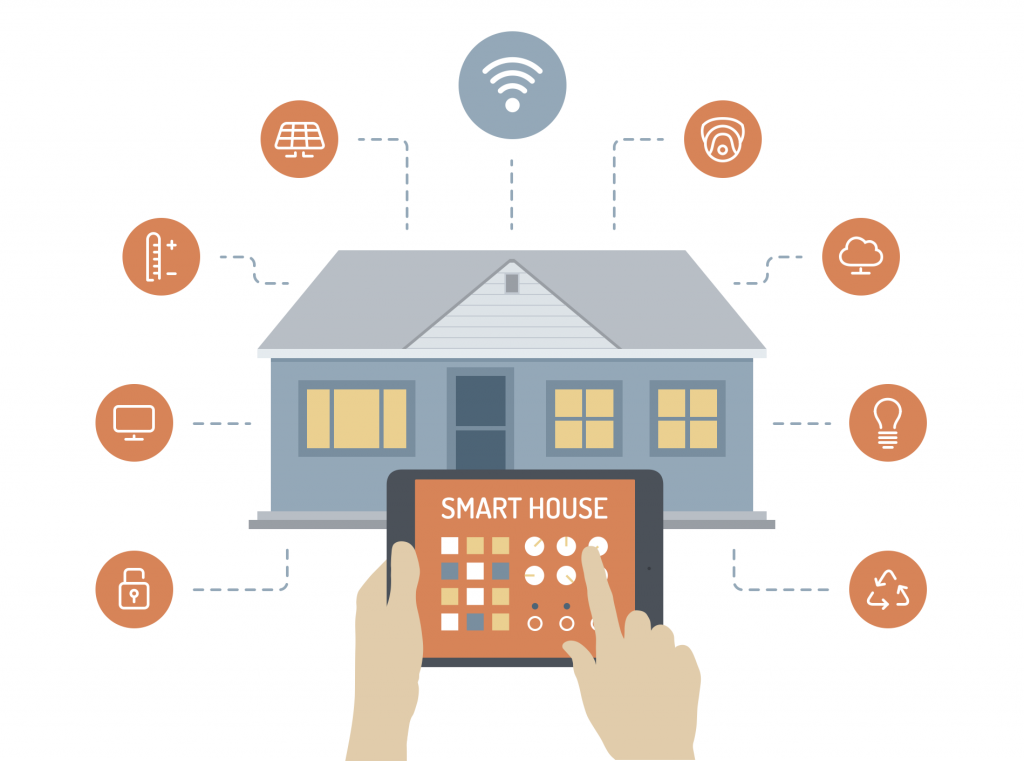 Smart Homes
A Smart House is a home that has highly advanced, automated systems to control and monitor functions such as lighting, temperature control, multi-media, security, window and door operations, air quality, or any other task of necessity or comfort performed by a home's resident.​
Pinewood Smart Homes
Starting in November 2021, a village hall in Whitehill & Bordon will be converted into homes for the homeless in a scheme that is thought to be a first in the UK: East Hampshire District Council plans to construct individual studios inside Pinewood Village Hall, on Rydal Close.
The design incorporates several innovative features, such as:
Photovoltaic solar panels generating renewable electricity for the benefit of residents and in support of climate change measures
A sophisticated fire suppression system and alarm
Building sensors to monitor the health of the building fabric
CCTV to improve the safety, management and welfare of residents.
Sedum roof – a plant that sits on a waterproof membrane and creates an attractive 'living' roof
 Sensor IT is part of the group of companies that will deliver on this social and highly innovative initiative, being responsible for the custom design, development, installation and integration of all sensors to be deployed as part of the project. These include:
Ambient temperature, humidity and pressure
Air quality
Noise
Structural health
Leak prevention and detection
PV panels performance and fault alert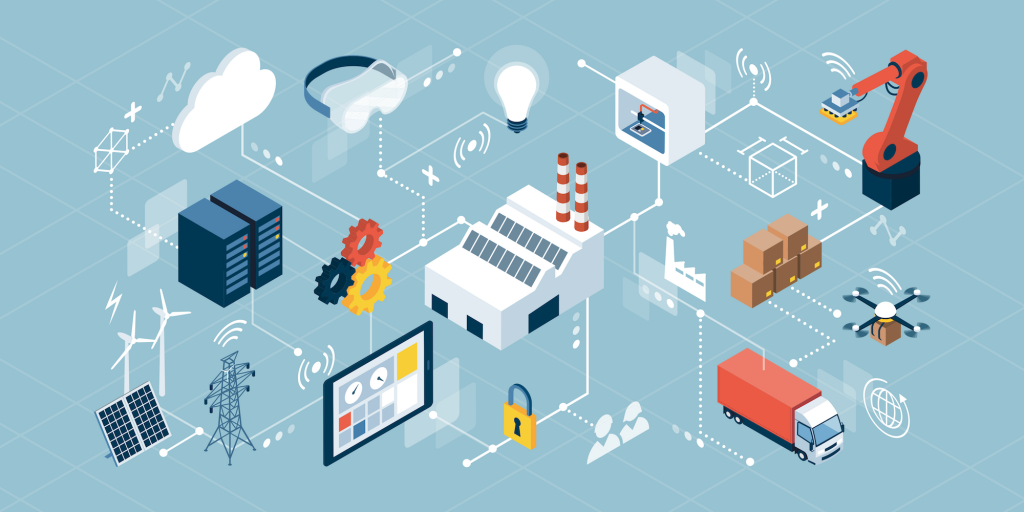 Smart Industry
Smart Industry, or Industry 4.0, as it is also known, refers to the fourth industrial revolution, although it is concerned with areas that are not usually classified as industry applications in their own right, such as smart cities. Generally-speaking, Smart Industry describes the growing trend towards automation and data exchange in technology and processes within the manufacturing industry, including the Internet of Things (IoT)
Wastewater Monitoring System
The management of the Mombasa sewer system encounters numerous challenges due to age, overloading and erratic maintenance. These issues often result in sewer overflows and blockages causing negative impacts on social, environmental and economic levels. Sensor IT designed a Wastewater Management System based on Internet of Things (IoT) components with the aim to monitor, and potentially control, the sewer network and the water treatment plant as a whole. IoT systems present a number of advantages over other, older technologies, which include:
Allows wireless connectivity, allowing easy, and low cost, deployment and maintenance of endpoints
Low power consumption, which allows monitoring and control in locations where access to main power is not possible
Small form factor and fanless devices that can be deployed in difficult locations hardly being noticeable.
The system included the deployment of a number of endpoints to measure the wastewater flow in several locations and the development of a real-time dashboard to be used to monitor such flow. The result of the trial aimed to prove the concept and sow the seeds for further enhancements and streamlining of wastewater treatment operations.
The system was sponsored and partly funded by Innovate UK, and was named Maji Taka Tech, and aimed to improve the efficiency of existing infrastructure. WASREB (Water Services Regulatory Board) indicated in their 2020 Impact Report that "Utility efficiency is key to attaining targets", these targets being Sustainable Development Goal 6 and the National Vision of Kenya committing to availability of water and sanitation for all by 2030, only ten years away. In this report Mombasa is currently (2019 figures) ranked bottom of the 12 "very large WSP utilities". As it is unlikely that sufficient investment in the sewer system will be made, the most feasible approach to improve performance is to enhance the efficiency of the existing system.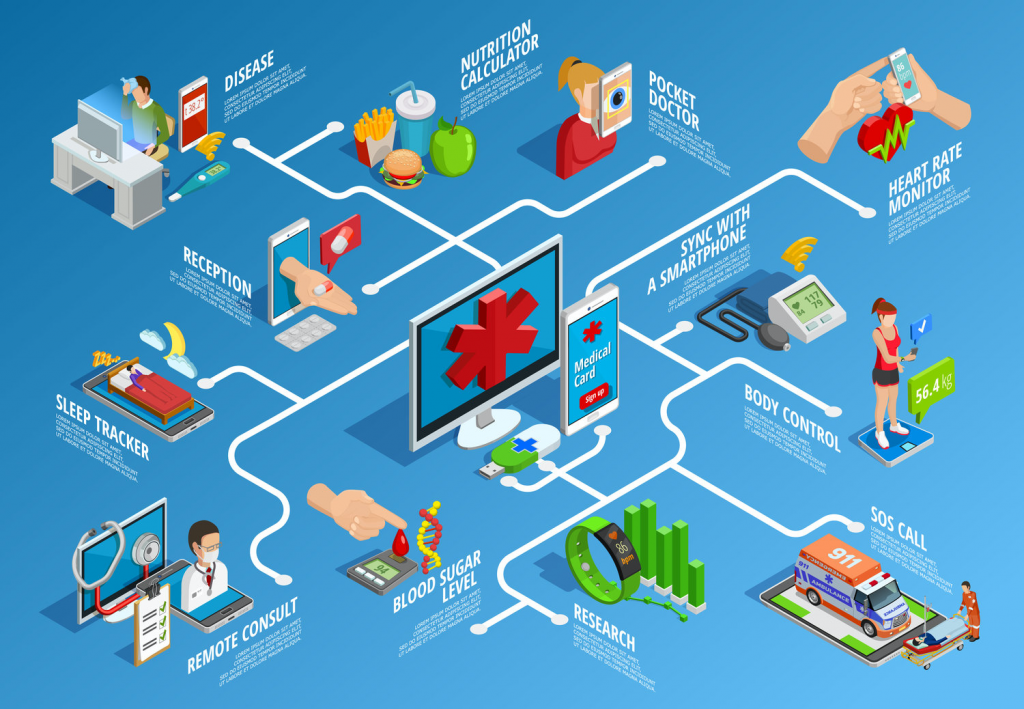 Smart Healthcare
Smart healthcare is a health service system that uses technology elements that include wearables, IoT devices and mobile internet to capture data, connect people and institutions related to healthcare, and then actively manages and responds to medical needs in an intelligent manner, allowing, for instance, proactive patient monitoring. Typically, Smart Healthcare involves multiple participants, such as doctors and patients, hospitals, and research institutions. It is an organic whole that involves multiple dimensions, including disease prevention and monitoring, diagnosis and treatment, hospital management, health decision-making, and medical research.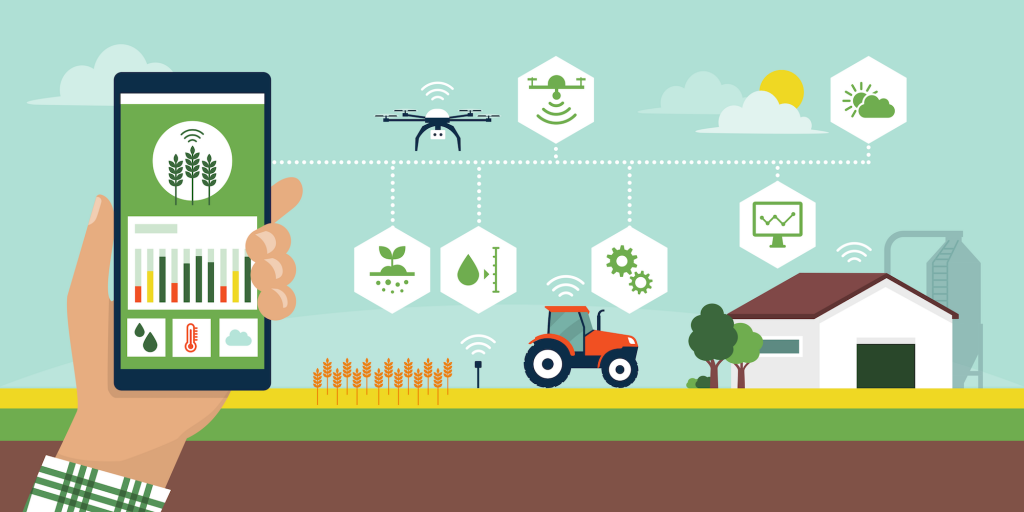 Smart Agriculture
Smart Agriculture refers to managing farms, crops and related activities using technologies like IoT, robotics, drones and AI to increase the quantity and quality of products while optimising the human labor required by production.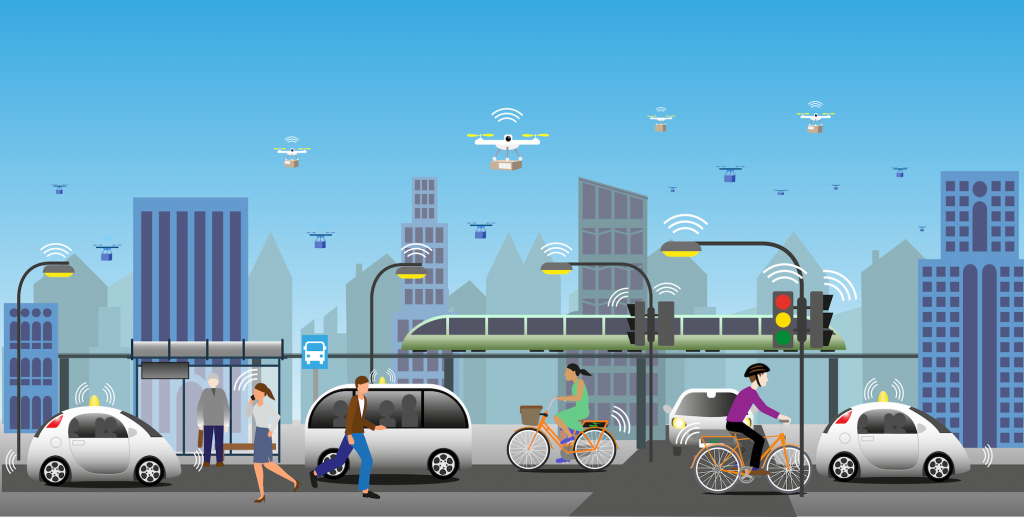 Smart Mobility
Smart mobility is a general term for new technologies that are transforming city and outside cities travel. These include new forms of transport like route optimisation software, autonomous vehicles, systems that facilitate easier ordering and sharing of transport, physical infrastructure like the Internet of Things (IoT) sensors and smart traffic signals, and big data systems that help analyse and optimise mobility flows.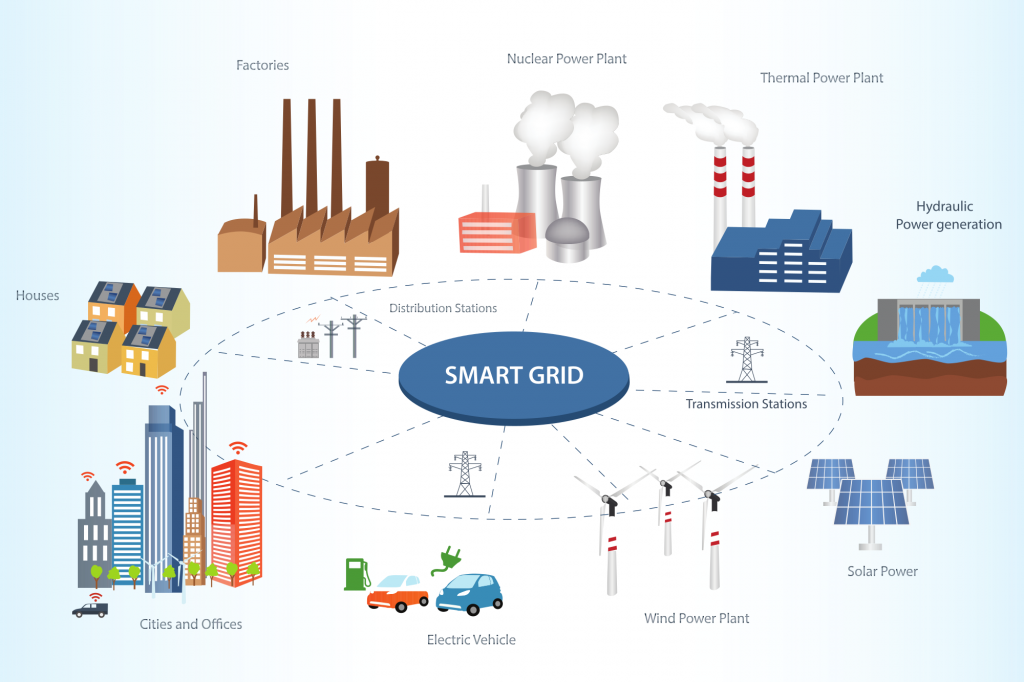 Smart Grid
A smart grid is an electricity network based on digital technology that is used to supply electricity to consumers via two-way digital communication. This system allows for monitoring, analysis, control and communication within the supply chain to help improve efficiency, reduce energy consumption and cost, and maximize the transparency and reliability of the energy supply chain.