Overview
Sensor IT is a technology provider in the Internet of Things (IoT) space who develops prototypes and technologies applicable to a number of verticals, such as Smart Cities, Smart Industry, Smart Agriculture and Smart Transport/Mobility, as the key sectors we focus on.
Sensor IT covers the whole range of products that typically an IoT System comprises, as depicted by the figure below(1).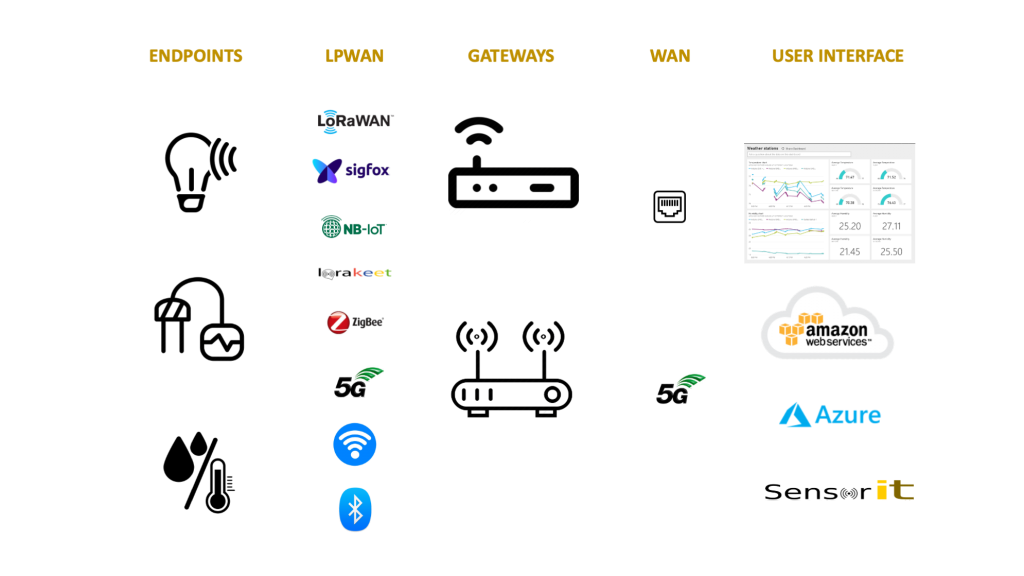 (1) All products, company names and logos are trademarks™ or registered® trademarks of their respective holders
What we do
Sensor IT specialises in the production of sensor detection and data generation devices which target connected (Internet of Things – IoT) deployments. We use low-cost, industrial Single Board Computers (SBC) and Systems on a Chip (SoC) components, such as those based on Atmel® and ARM® processors (which powers the ubiquitous Raspberry PI) that enable rapid prototyping and significantly lower the final production cost without impacting the quality of the final product. The range of products we use sensors and components from a wide range of suppliers, enabling us to use those that are more suited to the job at hand, such as Nordic Semiconductor®, U-Blox®, Semtech®, just to name a few.
Software Development
Following best practices around portability and scalability, at Sensor IT we develop IoT Firmware and Software code following a strict IPR approach that goes through owing the IPR of everything we create. We do not embed Open Source or GPL licenced products in our libraries.
Product Development
Sensor IT's product development processes follow an user-centric approach during which products are custom designed to meet specific requirements, rather than expecting customers to evaluate whether our products are suitable for their needs.
Consultancy
Based on our experience designing and developing IoT products, we are able to provide unbiased and highly professional advise on how to best approach IoT concept designs and complete products, from the most basic principles through to a complete, full-fledged system.
Project Direction
Our experience managing complex technological programmes can be projected into your own IoT initiative. We can cover all three aspects that every project involves: technical, commercial and legal.
Engineering Support
Need to get your concept off the ground? We can help you transform those basic concepts and ideas into realistic engineering principles that will allow your company to move forward and reach the next steps in your path to success.
Prototype Design
At Sensor IT, we design IoT prototypes from the ground up, starting with the schematic, following it with the PCB design and finishing with the product sourcing and manufacturing. Small prototype batches are typically assembled in our lab, with large batches being outsourced.
How we do it …
To design a sensor-based system, we work collaboratively with out clients to establish what is required in terms of the data that needs to be collected, how to encode such data, and how to transmit it to the end-system that is to deal with the data. At high level, there are several aspects of the design that need to be established before the finer details are to be dealt with.
We follow a sequential three-layered design approach to the provision of IoT services.
Hardware Layer
This layer contains all sensors and hardware that forms the basis of the device.
A simple example could be a temperature sensor that displays the ambient temperature on a LCD display. These hardware components can be battery or main power operated, as required.
Where communication of produced data to external entities is not necessary (maybe all we need to do is display the data on a LCD), this layer can constitute a product in itself, without reliance on any other external components.
Protocol Layer
In its simplest form, this layer translates the data generated by the Hardware layer into a format that the Application layer can understand.
In instances where communication from the application layer to the hardware layer is required, this layer also acts as the translator from one protocol to the other.
Communication Layer
This layer is in charge of linking the Protocol layer with the Application layer. It could include one or more communication media, cabled or wireless.
Latest news …